¿Quiénes somos?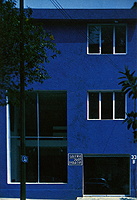 Galería Juan Martín, fundada en 1961.
La Galería fundada por Juan Martín se dedicó varios años a un grupo de 9 pintores, después llamados  generación de "Ruptura" cuyo fin era realizar pintura distinta de la llamada escuela Mexicana. Geometrísmo, abstracción, informalísmo, neo figurativo, eran expresiones artísticas  casi vedadas en los años 60's. Este grupo consistía de Arnaldo Coen, Lilia Carrillo, Manuel Felguérez, Fernando García Ponce, Alberto Gironella, Francisco Corzas, Vicente Rojo, Gabriel Ramírez, Roger von Gunten. Francisco Toledo se integra a la Galería Juan Martín en 1967. AL retirarse Juan Martín de la Galería en 1973, se amplía el establo de la misma quien empieza a promover fotografía en los años 70's trabajando con Manuel Álvarez Bravo, Lola Álvarez Bravo, Graciela Iturbide, Gilberto Chen, Marco Antonio Cruz, entre otros. Impulsa escultura con Sebastián, Alba Rojo, Marina Lascaris, Sergio Galán, Palle Seiersen, Mario Martín del Campo, Marta Palau. La Galería está dirigida actualmente por Malú Block y Graciela Toledo.
The Juan Martin Gallery was founded in 1961 by Juan Martin who initially gathered the so-called Ruptura generation, movement that was characterized by the search of new artistic expressions, far removed from the so called "Mexican School". Among the most significant artists of this tendency, we find Vicente Rojo, Fernando García Ponce, Lilia Carrillo, Alberto Gironella, Manuel Felguérez, Roger von Gunten and others. In 1968 Francisco Toledo joins the gallery stable. From 1973, year in which Juan Martin retires and Malú Block stays as its director, the gallery opens up to receive new artists like Sebastian, Susana Sierra, and foremost, opens up to photography, representing  since then Manuel Alvarez Bravo and Lola Alvarez Bravo, both pillars of mexican photography.  The gallery exhibits painting, sculpture, graphics and photography.
It has invited foreign artists to exhibit like Tapies, Saura, Farreras, Suárez from Spain; Adja Yunkers and Mark Tobey from U:S:A; Omar Rayo, Edgar Negret, Rómulo Maccio, Fernando Szyszlo and Matta from Latin America, amongst others.
At the present time, it shows works by younger artists like Mario Martín del Campo,Marina Láscaris,  Emilio Said, Marta Palau, Alba Rojo, Sergio Galán and Palle Seiersen.  Irma Palacios, Francisco Castro Leñero. Since 1986 Graciela Toledo forms part of the gallery's staff . At the present  time she collaborates as Assistant to the Director.